Collection: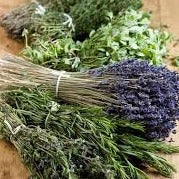 Collection:
Herbes de Provence
Herbes de Provence
Regular price

Sale price

$7.50
Tax included.
Herbes de Provence is a staple in French cooking. Provence is the region of France where you find endless fields of lavender, so of course, lavender is one of the ingredients of this Herb Blend.
Use it to make a baked chicken taste like rotisserie, at home.  Simply paint a whole chicken with olive oil, sprinkle it liberally with Herbes de Provence, and a little seasoning salt before baking.
We love it paired with Moroccan Olives and stuffed into a crusty sourdough before it bakes.  Such a treat!
(rosemary, thyme, savory, fennel, basil, lavender, marjoram) 
Net Weight:  0.87oz (24.8g)