Collection: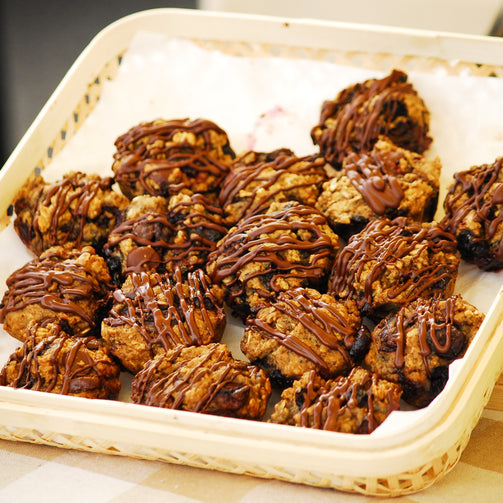 Collection:
Chocolates & Cherries Muffins
Chocolates & Cherries Muffins
Regular price

Sale price

$15.00
Tax included.
Chocolates & Cherries Muffins are a whole grain muffin filled with dark, sweet cherries and capped with a serious drizzle of dark, non-dairy chocolate.  They are like eating a chocolate covered cherry in bread form!
Sold in half-dozens that are packaged in clear bio-plastic containers, made of plant materials.  The packaging is compostable, and freezer safe (but do not microwave them). 
Ingredients:  Whole wheat & white flours, wheat germ, oats, white & brown sugars, cherries, flax seed, non-dairy butter, nut milk, baking powder, baking soda, vanilla, non-dairy chocolate.
Contains:  flours, wheat germ, nut milk

MADE IN A COTTAGE FOOD OPERATION THAT IS NOT SUBJECT TO STATE SAFETY INSPECTION
Choose the size you prefer:
large full-size muffins (each weighs 2.37oz / 67.2g)
small mini muffins (each weighs 1.65oz / 46.78g)
Arrange to pick up your order at the Farmer's Market lot at 109 S King St, Calhoun, GA in front of the Depot Museum, or at Georgia's Rome Gift Shop, 402 Civic Center Dr, Rome, GA 30161
Rome deliveries are made on Friday morning by 11am.  Orders must be placed no later than Wednesday at 5pm to qualify for the Friday, Rome, GA delivery.