Collection: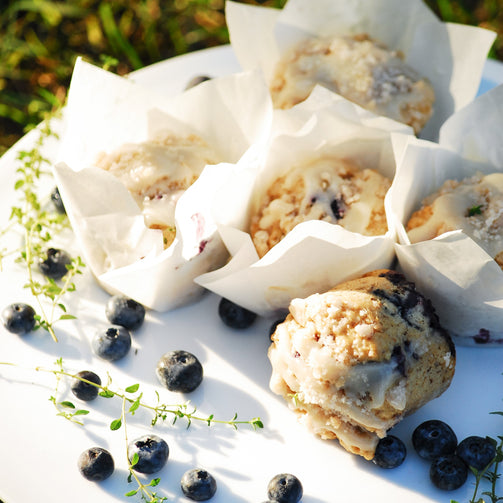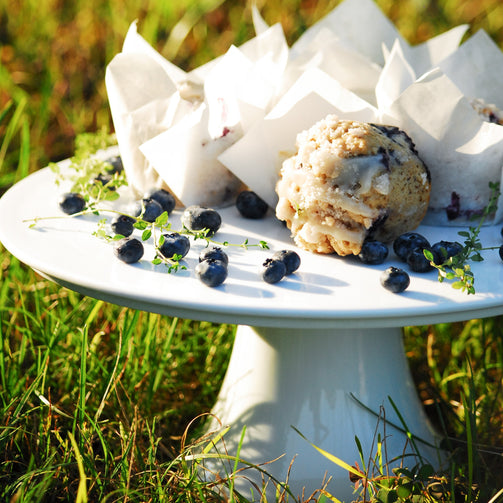 Collection:
Blueberry Thyme Muffins
Blueberry Thyme Muffins
Regular price

Sale price

$15.00
Tax included.
Blueberry Thyme Muffins 
There's just something about that little hint of thyme in these crumb-topped muffins that lifts the taste to a new height.  Fresh blueberries and fresh thyme, along with that little bit of lemon peel make this muffin a favorite!
Sold in half-dozens that are packaged in clear bio-plastic containers, made of plant materials.  The packaging is compostable, and freezer safe (but do not microwave them). 
Ingredients:  flour, white & brown sugars, blueberries, nut milk, non-dairy butter, non-dairy cream cheese, flax seed, lemon peel, thyme, vanilla & almond extracts, cinnamon, salt. 
Contains:  flour, nut milk

MADE IN A COTTAGE FOOD OPERATION THAT IS NOT SUBJECT TO STATE SAFETY INSPECTION
Choose the size you prefer:
large full-size muffins (each weighs 2.37oz / 67.2g)
small mini muffins (each weighs 1.65oz / 46.78g)
Arrange to pick up your order at the Farmer's Market lot at 109 S King St, Calhoun, GA in front of the Depot Museum.