Collection: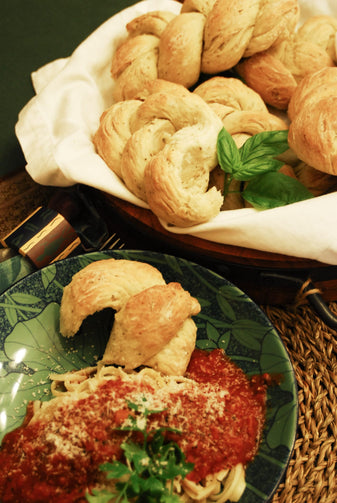 Collection:
Italian Herb Braided Bread
Italian Herb Braided Bread
Regular price

Sale price

$7.00
Tax included.
These soft Italian Herb Braided Loaves are a basic Challah bread made with 8 basic ingredients, including our in-house Italian Herb Seasoning Blend.  They are the perfect accompaniment to a bowl of pasta. (6.2oz each)
Ingredients:  flour, yeast, white sugar, salt, olive oil, water, nut milk, basil, marjoram, oregano, rosemary, thyme, parsley, garlic, onion, pepper.
Allergens:  flour, nut milk
MADE IN A COTTAGE FOOD OPERATION THAT IS NOT SUBJECT TO STATE FOOD SAFETY INSPECTION
Arrange to pick up your loaves at 109 S King St, Calhoun, GA in the Farmer's Market lot in front of the Depot Museum. 
OR on Fridays at Georgia's Rome Gift Shop 402 Civic Center Dr, Rome, GA  30161